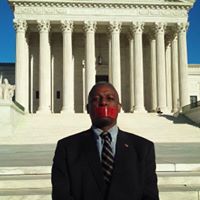 You Can't Save the World If You Are NEVER Born!
After it became known that Major Mike Webb would continue to run as an independent challenger after being rejected by the delegates at the nomination convention of the 8th District Republican Convention because he was "too conservative to win," the Pro Abortion incumbent, Don Beyer told the Washington Post, "Conventional wisdom says that this is a safe district, but I am not taking anything for granted." And, perhaps, if you were running against a Baptist who could get a letter acknowledging miraculous occurrences from the Congregation for the Causes of Saints at the Vatican, who could convince congregants at large, African American Baptist Churches to consider forming a Pro Life group to partner with the Campaign for Life, began in 2015 by the Bishops in the Church of God in Christ, the largest African American faith denomination, or who was not afraid nor ashamed to follow the example of civil disobedience set by a famous friend of his father who spent a night in a Birmingham jail to "think strange thoughts, write long letters and pray long prayers," to advance the most significant moral cause in the nation today which adversely affects both mothers below the poverty line and mothers of color, manipulated to give up the lives of their babies, perhaps you wouldn't be taking any chances either.

Major Mike Webb does not just talk the talk, like most politicians; he walks the walk. He joined the Red Rose Rescue in Alexandria on the day before the first Sunday of Advent in 2017, and he has not only persevered through a controversial trial where he was subjected to email harassment from Pro Abortionists, issued an illegal internet gag order and had Miranda Rights violated by the Alexandria Police and recommended for a severe fine of $500--2 times the amount charged for marijuana possession--by the Commonwealth Attorney for the "inconvenience" he was alleged to have caused the city for his misdemeanor crime of a simple trespass, but he is also pushing forward to a appeal of the decision before a 7 person jury, and is working with Pro Life Generation legislators in the U.S. Congress to Amend and Replace the Freedom of Access to Clinic Entrances (FACE) Act which has served as a bludgeon against those in the Pro Life Cause since it's enactment in 1994, defining them as "single issue terrorists" to be prosecuted by the Department of Justice, but for a provision that, on its face, is unconstitutional under the Commerce Clause. Perhaps one irreverent reverend's son was just what the Pro Life Generation needed to finally abolish abortion. And, Rangers lead the way!